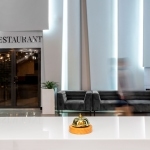 ATRIUM Hotel is a new modern hotel in Mogilev city located in the very city center just a few steps from the Central Department Store and the main pedestrian street Leninskaya.
Whether you are a business traveller, a guest wishing to explore the city or you're simply looking for a weekend gateway – ATRUM Hotel is a perfect place for business and leisure. ATRIUM guests will appreciate a high level of service, genuine hospitality and functional comfort.
We offer
135 rooms of different categories able to accommodate up to 300 people
Well-appointed guest rooms with essential in-room amenities ensuring maximum productivity and relaxation
Dining at the European and Slavic cuisine restaurant Grand Savoy
Meeting Rooms able to fit comfortably from 14 to 300 people
NEBO Lounge SPA Center
Modern BODIS Fitness center
24/7 reception desk
Additional services: high-speed Wi-Fi, laundry, luggage room, comfort menu, transfer, car rental, tour services and much more
Hotel Mission
At ATRIUM we take pride in the professionalism and unique qualities of each hotel employee.
We strive to provide memorable guest experience anticipating the most daring guests' expectations.
ATRIUM is a place where European service meets Belarusian hospitality.
Motto
The Art of Good Service
ATRIUM Philosophy
In focus Sited in the very heart of the city ATRIUM is a perfect solution for those who are used to being at the hub of business and cultural activities. The hotel is conveniently located at the intersection of the main streets of Mogilev and a 5-minute walk from the pedestrian street Leninskaya.
Our guest The hotel is focused on a new generation of business travelers who appreciate the high pace of life and functionality as well as guests with discerning taste who tend to choose elegant design and European service.
Attention to details At ATRIUM we take special care of our guests and think through every detail to provide personal service.
Multi-functionality Located in the top commercial multifunctional complex the hotel directly connects to high-end offices, restaurants, cinemas, a SPA complex, Fitness, Shopping and Entertainment center.
Unique architecture ATRIUM building boasts a unique architectural element – the atrium – patio or the internal courtyard, which allows guests to relax in the improvised garden enjoying the tranquility and comfort.